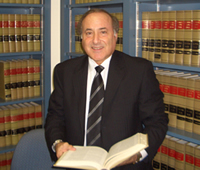 I graduated from the University of Miami School of Law in 1973 and was admitted to the Florida Bar in October 1973. Since 1974, when I became a sole practitioner, I have devoted the majority of my practice to representing landlords in over 50,000 county court evictions, both residential and commercial, in Miami-Dade and Broward counties.
I have appeared on television and radio panels and talk shows discussing the area of landlord / tenant law and I have testified in court in Dade and Broward Counties as an expert witness in the area of landlord/ tenant law.
My goal is to educate my clients so that they are knowledgeable in the area of landlord / tenant law. This helps prevent them from making costly mistakes and enables the eviction process to run as smoothly and quickly as possible.
I am accessible for questions from my clients, generally, seven days a week. My clients range from corporate owners of large apartment complexes and shopping centers to individuals who rent out single family homes and condominiums. Each landlord receives my individual attention.